We don't just
follow standards.
We set them.
Gobi Labs was founded by two devout chemists and a belief that sound scientific analysis is the surest route to advancement. It's not just their love of science that has attracted them to testing; it's their passion for cannabis. They worked diligently to master the state's regulations and develop the leading potency testing facility in Colorado. After creating their strong foundation, they became the first laboratory to be certified for microbial testing and residual solvent analysis.
And they didn't stop there.
Since Gobi Labs opened our doors on May 1, 2014, we have been rapidly growing, developing new methodology, and setting and resetting standards. The Gobi team now collectively holds over 30 years of analytical testing experience. We work around the clock to bring you the most reliable results in the fastest time possible, all to make your success a reality.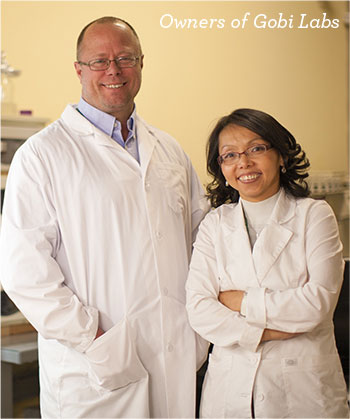 PETER PERRONE & BURENJARGAL (BUGI) PERRONE
Before they founded Gobi Labs, Peter Perrone and Bugi Perrone had spent the majority of their careers unknowingly preparing for their involvement in the marijuana industry.
Peter has always been an herbal chemist through and through. As an undergraduate, he spent a year traveling through Africa and living with indigenous peoples in an attempt to find new natural medicines he could bring back to the United States for further testing. The more Peter learned about natural remedies, the greater his passion for them became. In fact, Peter completed his Master's thesis on a German medicine that's derived from a tree seed. He then proceeded to spend over 20 years honing his chemical analysis abilities in various laboratory settings.
Meanwhile, Bugi was becoming a chemist with an affinity for quality assurance. She landed a job with the Mongolian Institute for Standard and Metrology at a time when Mongolia was working closely with the EU to implement quality assurance standards in Mongolian testing laboratories. Bugi's QA work has taken her from Mongolia to Turkey and Korea and finally landed her in the United States.
When Peter and Bugi met in the graduate program for chemistry at the University of Colorado Denver, the compatibility of their respective strengths quickly became apparent. On January 1, 2014—the day recreational marijuana became legal in Colorado—Peter and Bugi decided that cannabis testing was the perfect place to put those strengths to good use.
They founded Gobi Labs, and in short order the company became one of the first three laboratories to be certified for marijuana testing in the State. Peter and Bugi have loved seeing the quality of the flower available in Colorado increase drastically. And they've loved being able to encourage clients to focus on more than just the THCA content of their plants. They both believe that this is simply their first step in a long career in cannabis research.
With Peter applying his skillset to develop the laboratory's methods and validate its instruments, and Bugi leveraging her experience to manage quality assurance, it's no wonder that Gobi Labs has quickly become the trusted source for trustworthy cannabis testing.

Free Sample Pickups offered Monday-Friday with a minimum of 3 or more samples. Our standard route includes most of the front range area including Denver metro, Colorado Springs, Fort Collins, and Boulder. Our Pick Up services are also offered throughout Colorado and for customers requesting less than 3 samples for a small fee which is dependent upon order size. Please contact us here or call us at 303-456-2040 for full details.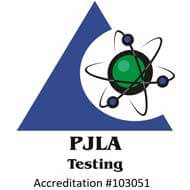 GOBI ANALYTICAL IS ACCREDITED TO THE ISO/IEC 17025:2017 STANDARD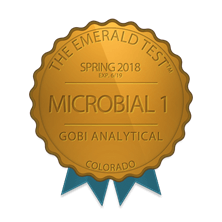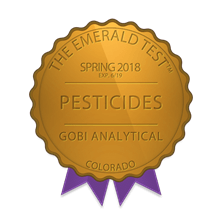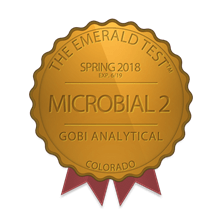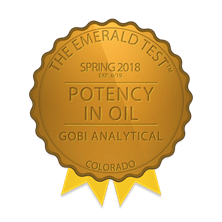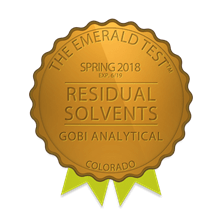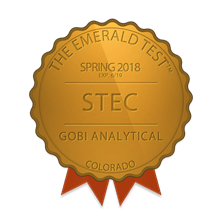 Gobi is proud to be the one of the most highly awarded testing facilities in Colorado.